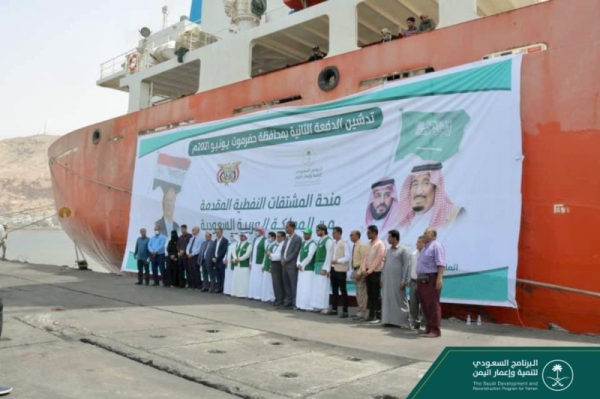 Saudi Gazette report
MUKALLA — The second batch of the Saudi oil derivatives grant offered to Yemen arrived at the port of Mukalla in Yemen's Hadramout governorate on Wednesday, amounting to 23,000 metric tons.
The oil derivatives will help power plants generate electricity in the governorate in coordination with local authorities, the Saudi Press Agency reported.
Office Director of the Saudi Development and Reconstruction Program for Yemen in Hadramout and Al-Mahrah governorates Engineer Abdullah Basuleiman said that the oil derivatives grant worth $422 million is part of efforts to improve economic conditions of the Yemeni people and is an extension of the support Saudi Arabia offers to Yemen in all fields owing to deep-rooted ties between the people of the two countries.
The grant will provide help ease budgetary pressures on the Yemeni government and reduce the use of hard currencies for buying oil derivatives from global markets, Basuleiman said.
He added that the grant will also help stabilize the Yemeni riyal's exchange rate and fuel prices against the US dollar, improve vital services, and provide job opportunities, as well as boost the standard of living in the country.
According to Basuleiman, the grant contributes to reducing recurrent power disruptions that affect the daily life and the quality and performance of the vital sector in Yemen, where this support is expected to make a positive impact that reflects on economic, health, educational and service sectors.
Development projects in Aden that are implemented by the program include 198 projects and initiatives implemented in various Yemeni governorates to meet the needs of the Yemeni brothers in seven basic sectors: education, health, water, transport, agriculture, fishery resources, and building up the capabilities of public institutions.