May 20, 2022
BLOOMINGTON, Ill. – A tool used by leading business, investment and finance professionals was unveiled at a dedication ceremony Thursday at Illinois Wesleyan University in the form of a Bloomberg Finance Laboratory.
Located in Room 101 of State Farm Hall, the Bloomberg Lab includes 12 licensed terminals and two live stock tickers. The facility was named The Greg Yess '82 Bloomberg Finance Lab after the alumnus and his wife Kari whose generous donation made the installation possible.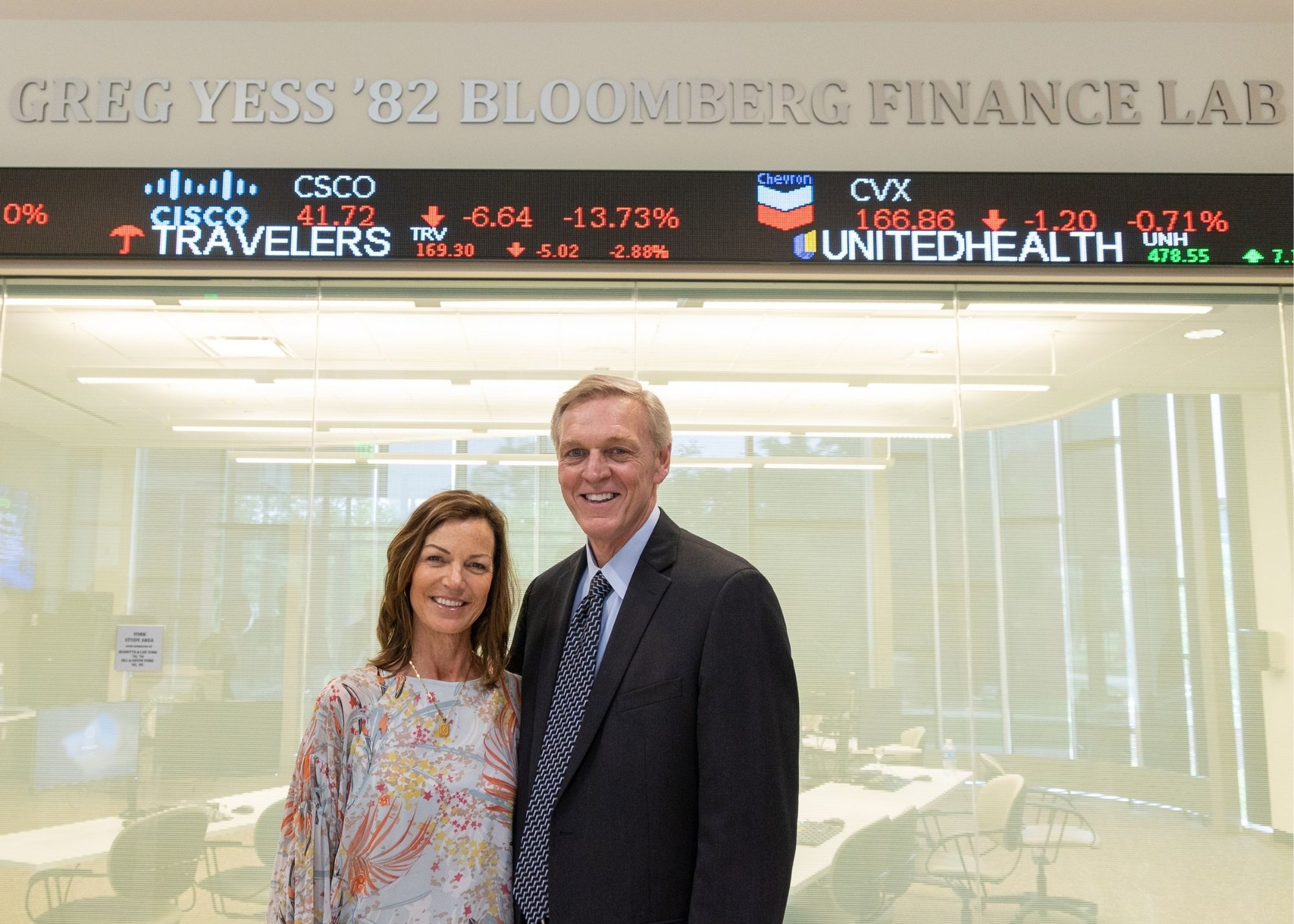 Yess gave remarks – along with President Georgia Nugent and member of the IWU Portfolio Management Advisory Board Corey Schieler '97 – during the dedication ceremony at State Farm Hall, followed by a tour of the lab and reception.
"The world of finance has grown dramatically over the past two decades," said Yess. "It is a part of everything we think, see and do. Illinois Wesleyan has a great reputation in all aspects of higher learning, and I wanted to make sure its students have access to the best financial tools available. I believe the Bloomberg Finance Lab will help provide those tools and be a real game-changer for their future careers."
Considered the gold standard in the finance industry, the Bloomberg Terminal is a computer software system that enables professionals in the financial service sector to monitor and analyze real-time financial market data, news and research, powerful analytics, communication tools and electronic trading capabilities.
"Greg has certainly been a leader in his chosen career in the finance industry and he understands the need to develop outstanding talent, and that's of course what we do here at Illinois Wesleyan," said Nugent. "He also recognized what it would mean for our students to have access to Bloomberg terminals. That is truly going to be distinctive for us."
The lab offers space for instruction, training and research for students studying accounting, business, finance and economics – even nursing majors can use the lab to explore pharmaceutical industry information. Every finance major will receive training to earn a Bloomberg Certificate upon graduation, a distinctive achievement for their resume.
The Bloomberg Finance Lab will be particularly useful for students in Illinois Wesleyan's portfolio management class, who manage nearly $4.5 million dollars of real money in consultation with the Alumni Portfolio Management Advisory Board.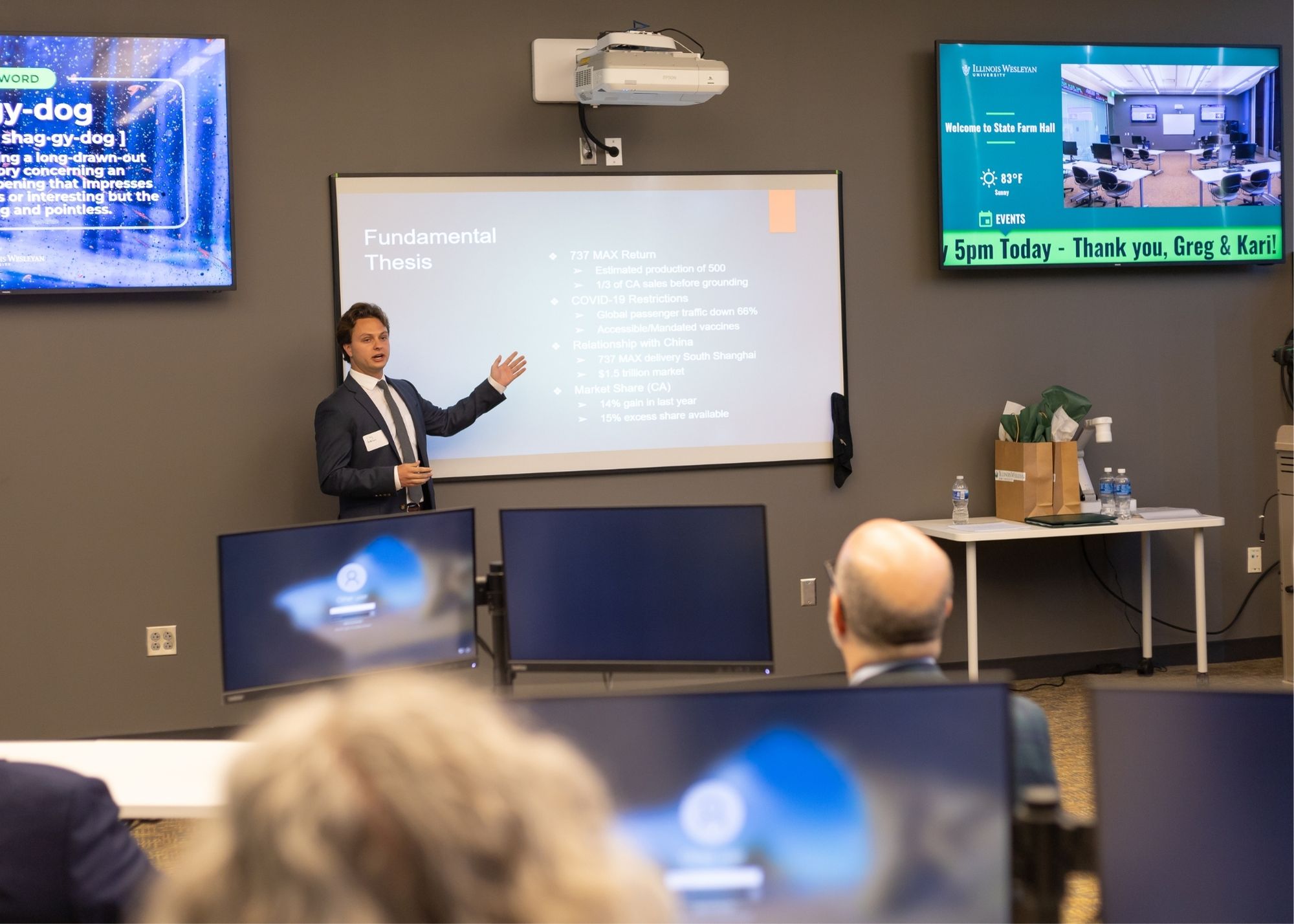 "This Bloomberg Lab really will be an essential part of the business curriculum here at Illinois Wesleyan. It's going to add to the level of research and the depth of knowledge these students will have," said Schieler, who serves on the advisory board. "The practical skills they will be able to take into their internships and future careers is going to be really remarkable."
Clay Anderson '23 shared a presentation during the lab tour, highlighting his experience using the Bloomberg Lab during portfolio management class during the spring 2022 semester.
Prior to the lab's installation, Anderson said a full class shared access to one Bloomberg terminal in The Ames Library.
"Having this open area with multiple terminals really allows for us to do as much digging as we want, with more time to make in-depth analysis that can help better the portfolio," said Anderson. "It's really great to see people giving back to the students, believing in us and reinvesting in us so we can do the best we can when we enter the workforce."
By Julia Perez