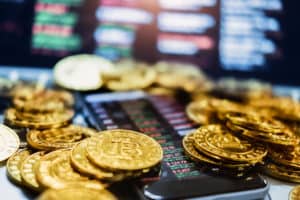 Cboe Global Markets has moved to create a digital asset marketplace that reflects traditional markets with its acquisition of US-based digital asset spot market, ErisX Digital Holdings.
The deal is expected to close in the first half of next year, following regulatory approvals. Financial terms of the transaction were not disclosed, but the derivatives exchange confirmed it planned to fund it with cash and increased debt.
The combination of ErisX's existing exchanges and clearing and settlement systems, which are regulated by the Commodity Futures Trading Commission, and Cboe's infrastructure, will be used to create Cboe Digital, a new digital asset business that aims to address growing demand among institutional investors for digital assets.
As opposed to building the marketplace itself, the derivatives exchange will gain a spot market to produce data with derivatives and a clearinghouse through one transaction.
"We believe our acquisition of ErisX, coupled with broad industry participation and support, will help us bring the regulatory framework, transparency, infrastructure and data solutions of traditional markets to the digital asset space," said Ed Tilly, chairman, president and chief executive of Cboe Global Markets.
"ErisX has shown an unwavering commitment to improving spot and derivatives crypto trading, and I am confident that together we can not only meet the growing demand for institutional and retail trading solutions but also push the boundaries of digital asset innovation and unlock its next phase of growth."
The new digital asset business, Cboe Digital, has already established support from DRW, Fidelity Digital Assets, Galaxy Digital, Interactive Brokers, NYDIG, Paxos, Robinhood, Virtu Financial and Webull all of which will form a Digital Advisory Committee.
Committee members will acquire minority shares in the business and focus on the development of Cboe Digital and its market data offering, including an industry benchmark for crypto execution prices alongside indices for exchange traded product (ETP) creation.
"We founded ErisX with the vision of creating a transparent, well-regulated market for cryptocurrencies and cryptocurrency derivatives in order to facilitate adoption by traditional financial institutions," said Don Wilson, founder and chief executive of DRW. "Cboe's acquisition of ErisX and creation of Cboe Digital with a group of institutional partners will accelerate this vision."
The acquisition follows Cboe's launch of bitcoin futures in 2017. It was the first US company to go live with the product and despite reporting rising volumes in 2018, the exchange later shuttered them.
According to a recent study by Fidelity Digital Assets, seven out of 10 institutional investors expect to have digital assets make up part of their portfolios in the future. As demand has risen, institutions are vying to be the first to offer a regulated and transparent trading venue for this market.
In a market first, the Six Swiss Exchange gained regulatory approval from the Swiss Financial Market Supervisory Authority (FINMA) in September to operate a digital asset exchange.