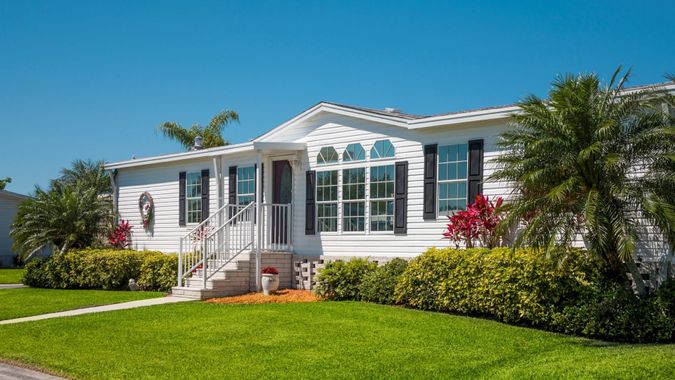 Marje / Getty Images/iStockphoto
Buying a new home is a major investment that often requires a hefty down payment and expensive, long-term loans. For people on a tight budget, buying a mobile home or a manufactured home is a more attractive option that offers a wider range of flexibility than traditional or stick-built homes.
Difference Between Mobile and Manufactured Homes
Mobile and manufactured homes are actually the same thing with only one difference: when they were made. Mobile homes are those built prior to June 15, 1976.
At this time, the Department of Housing and Urban Development developed the Manufactured Home Construction and Safety Standards (HUD Code) to regulate safety in mobile homes. From that point forward, mobile homes technically became "manufactured homes," though the two terms are still used interchangeably.
Steps To Take Before Applying for Financing
Mobile home financing can be tricky, but it's not impossible. There are a couple of things to do before you apply for financing that can improve your chances of approval.
Check Your Credit
Any time you're about to apply for financing, it's a good idea to take a look at your credit. Low credit scores can lead to exponentially higher interest rates than good credit scores, and unfavorable marks on your credit can lead to outright denial of financing. Follow these steps to put the odds in your favor:
Get your

credit report and score

. It can be difficult to get a loan with a score of less than 620, though there are a few options for those as low as 580. The lower your credit score, though, the higher the interest and less favorable the terms. Try to get your score to at least a 620 before applying, but the higher you can go, the better.
Mark any nonmedical collections, as these are often a barrier to credit. If possible, pay off or pay down any debts you owe that are not medical bills.
Aim to have your debt-to-income ratio at 50% or less. The less debt you owe in comparison to your income, the more likely you are to repay your loan.
If you can't figure out what changes to make, you can still apply for a loan. If denied, get the loan specialist to tell you why so you will know exactly what to work on.
Consider Land and Location
This is a very important consideration. Buyers who own their own land typically have an easier time getting financing for a mobile home as they can use the land as collateral.
Buyers who plan to purchase land with a mobile home also have an easier time with financing than those hoping to buy a mobile home to put on a rented lot. If you don't own your own land, try to find a piece of land to purchase with the mobile home to make the process easier.
How To Finance a Mobile Home
The following are just a few potential loan avenues when trying to finance your mobile home.
Conventional Loans
Although it's not impossible to get a conventional loan for a manufactured home, it can be tougher than getting financing with a Federal Housing Administration insured loan. Fannie Mae and Freddie Mac lenders do make conventional loans on manufactured homes, but the specific lender you want to use must meet specific requirements.
For example, Freddie Mac requires loan originators to comply with Chapter 5703 of its Single-Family Seller Servicer Guide. This guide sets out several rules, including eligibility and underwriting requirements.
One advantage Freddie Mac does offer is to borrowers who own the land on which the manufactured home will be attached. This land might be used as an equity contribution.
Chattel Mortgages
The difference between borrowers who own land and those who don't is that the manufactured home is considered "real property" in the former circumstance and, in the latter, it's considered "personal property."
For borrowers who are leasing the land on which the manufactured home will be located, a common option is chattel mortgage loans. The drawbacks of a chattel mortgage loan are that the interest rates are higher and the terms are usually shorter than those offered by a conventional loan or an FHA loan, so monthly payments will be higher.
Borrowers who have good credit, which by today's standards is between 700 to 759, might land a loan with rates below 3%. People with lower scores might be facing higher interest rates of nearly 5% or more.
Keep in Mind

If you plan on living in the home for several years, your best bet might be to also buy the property along with the home. Buying both the property and the home will most likely expand your interest rate options, leading to a better deal in the long term.
FHA Loans
The Federal Housing Administration is in the business of insuring loans, not making them. By backing loans, the FHA encourages lenders to loan money to would-be homeowners. What that means is if the borrower stops making payments and ends up defaulting on the loan, the FHA would make a payment to the lender.
FHA loans fall under the Title I program, which includes manufactured homes. One major benefit to these loans is that the FHA guidelines require them to be fixed throughout the full mortgage term, which is usually 20 years. Adjustable-rate mortgages, therefore, would not be eligible for FHA backing.
Another important benefit, especially for people who will lease the land on which their manufactured home will be located, is that the FHA doesn't require the borrower to own the land. One stipulation to this is that the lessor must lease the land to the borrower for a minimum of three years in order to qualify for a loan.
The maximum loan amounts for Title I insured loans are as follows:
$69,678 for the manufactured home by itself
$23,226 for a manufactured home lot
$92,904 for both the manufactured home and the lot
To be approved for a Title I insured loan, the applicant's credit history is reviewed and considered. The borrower must be deemed able to make monthly payments. This must be the borrower's primary residence.
VA Loans
Like FHA loans, a VA loan offered by the Department of Veterans Affairs will pay lenders if the borrower defaults. Manufactured homes — both with owned and leased lots — might get VA loan guarantees. However, the amount the VA will cover differs for each setup.
For manufactured homes that will not be put on a permanent foundation, borrowers can get a loan for up to 95% of the home's purchase price. The VA will guarantee 40% of the manufactured home loan amount or the veteran's available entitlement, up to a maximum amount of $20,000.
Eligible parties — service members, veterans, spouses, and other eligible beneficiaries who qualify for a VA loan — must present a certificate of eligibility, or COE, to be eligible for a VA-guaranteed manufactured home loan, and they must reside in the home.
These COE requirements vary but include specifications like minimum active duty service requirements and marital status in the case of an eligible spouse. Along with a COE, the borrower must also meet other requirements, including a good credit rating and enough income to make the monthly mortgage payments.
Good To Know

Most mobile home dealers sell used and repossessed mobile homes. If you can't get approved for a brand new mobile home, consider one of these dealers. They often work out special financing through companies that offer loans to people with unfavorable credit.
Brandy Woodfolk contributed to the reporting for this article.